Decoding Shraddha Arya's Diet Plan: Discover What Keeps Kundali Bhagya Actress Shraddha Arya Healthy
Interested in learning Shraddha Arya's health trick that keeps her in good shape? Find out everything about the actress's diet here, including what she eats for breakfast, her favorite dish, and more.
Who is Shraddha Arya?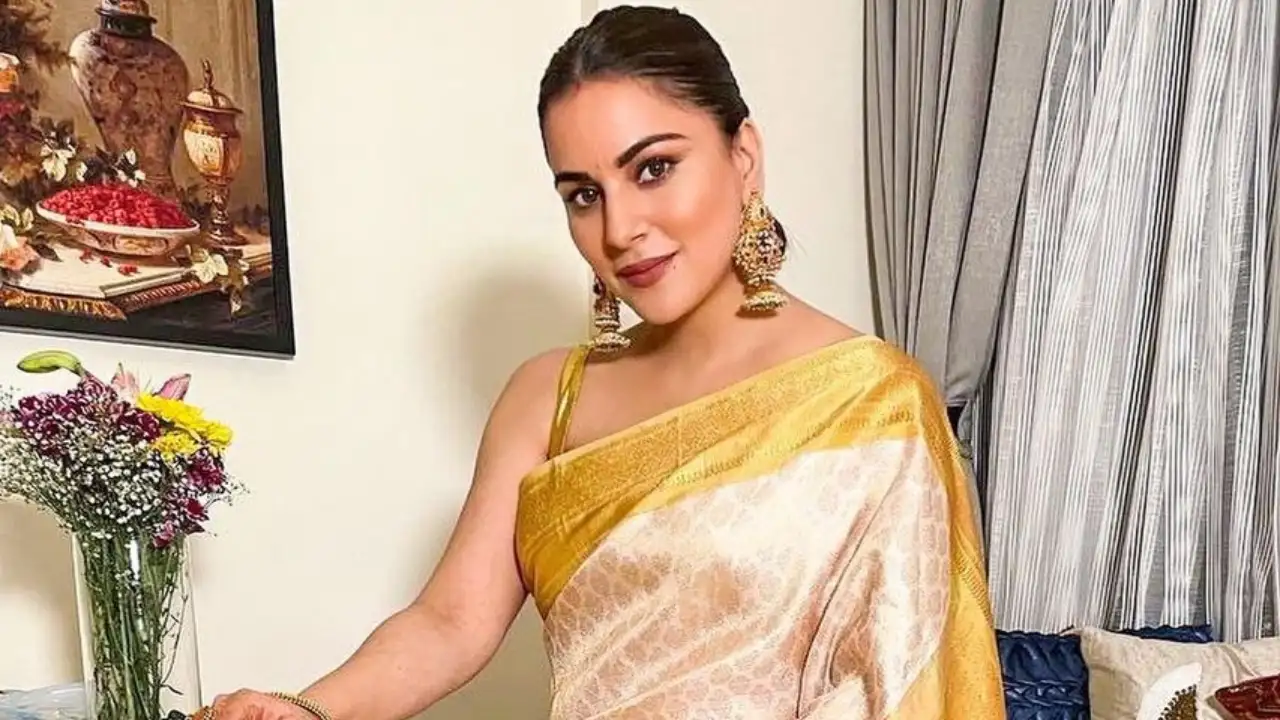 Shraddha Arya gained popularity after her role as Preeta in Ekta Kapoor's Kundali Bhagya. The daily soap has been running since 2017, and Shraddha has been a part of it since the beginning. Before her entry into television, she started her career as a model and featured in various music videos. Besides her acting talent, the actress is known for her beauty and fashion choices. Whether she wears a traditional saree or flaunts her curves in a swimsuit, Shraddha Arya stands out in any outfit.
Shraddha Arya's Diet Plan Revealed:
Fans are often curious about the secret behind their favorite celebrity's fitness and physique. Shraddha Arya, who gained fame for her portrayal of Preeta in Ekta Kapoor's Kundali Bhagya, is known for her stunning looks and toned physique. However, it takes more than just genetics to maintain such a figure. A balanced diet and a rigorous fitness regimen are crucial factors. The actress is known for her disciplined eating habits and avoidance of junk food. Let's delve into Shraddha Arya's diet to find out more.
View this post on Instagram
Breakfast:
Shraddha Arya kickstarts her day with a delicious breakfast, recognizing the importance of not skipping this crucial meal. Her breakfast of choice is a simple yet wholesome mix of oats, granola, milk, and a bowl of fresh fruits. Oatmeal is packed with fibre and protein, offering numerous health benefits, including weight management, which aids in maintaining Shraddha's flawless figure. Prior to consuming her breakfast, she drinks a glass of warm water.
Pre-Lunch Diet:
Shraddha Arya believes in maintaining a balanced diet and eating in moderation. As part of her routine, she has a pre-lunch meal which includes a glass of fruit juice or coconut water. Additionally, she consumes a small bowl of fresh salad with a light dressing before having lunch.
Shraddha Arya's Lunch Diet:
After keeping her breakfast and pre-lunch meal light, Shraddha continues to maintain a balanced diet for lunch as well. She prefers to have home-cooked meals, and her lunch usually consists of chapattis, a bowl of vegetables or a light chicken curry, and a bowl of curd. Following her lunch, she often drinks green tea in the evening and pairs it with a bowl of nuts for added nutrition.
What Shraddha Has in Dinner?
Shraddha Arya's dinner is light and usually consists of soup or a fresh salad. Due to her busy schedule, she eats dinner early, around 7 p.m.
Cheat Day:
Unlike many people who have cheat days, Shraddha doesn't follow a strict cheat day routine. Instead, she eats whatever she wants, but always in small portions. This allows her to indulge in sweet treats like chocolates and pastries, which she often receives from her co-star Paras Kalnawat. However, instead of overindulging, she takes small bites to satisfy her taste buds.
Shraddha Arya Work front:
Shraddha Arya, an Indian television artist, has acted in several popular TV shows like Main Lakshmi Tere Aangan Ki, Tumhari Pakhi, and Dream Girl. She has also acted in movies like Paathshaala and Nishabd and featured in major ad campaigns for brands such as TVS Scooty, Pears, and Johnson & Johnson. In 2016, she participated in Bigg Boss. Currently, Shraddha Arya is best known for portraying the character of Dr. Preeta Arora in the popular Zee TV show Kundali Bhagya since 2017.
Shraddha has a huge fan base on Social media as well due to her good looks and her amazing acting skills. Shraddha Arya has 5.3 million Instagram followers. Here is Shraddha Arya's instagram account. Also have a look at some of the tweets from her fansto get an idea how much she is loved on Twitter too:
Shraddha and Aditi are chilling together ♥️

.#KundaliBhagya #KathaAnkahee #ShraddhaArya #AditiDevSharma pic.twitter.com/bIciSIXCNQ

— 🥀 (@shadesofblissx) May 10, 2023
20+ years of Friendship I guess ❤️❤️@AryaSmilesa @Aditidevsharma #ShraddhaArya #AditiSharma #IndiasBestCinestarKiKhoj 🙌 pic.twitter.com/gNRxWN6eip

— Divs (@preejunxjunoon) May 10, 2023
Couldn't stop myself from posting this ,cause JUST LOOK AT HER 🥹💫✨..!
[ @AryaSmilesa • #ShraddhaArya ]

VD: @preeranonlyx pic.twitter.com/VeP5exDJ7d

— 𝒢. (@preeranxgravity) May 8, 2023
Happy World Laughter Day❤😍🧿#DheeShra ❤❤🥺🥺🧿🧿#DheerajDhoopar #ShraddhaArya pic.twitter.com/0lLeBN7Cy3

— Preeran Rocks❤❤😍😍 (@RocksPreeran) May 7, 2023
Also Read: Divorce Photoshoot Goes Viral: A New Trend of Celebrating Freedom or Mocking Marriage?
We hope this was an information rich article and for more such entertainment news and updates follow The Bright Wall on Twitter and Instagram. Share this article and take a step forward towards making The Bright Wall one of the best news websites for entertainment, business, sports, technology and social media updates.