Good News For Suresh Raina Fans, Mr. IPL Maybe Away From The Pitch But Not From IPL 2022, Read How?
Suresh Raina is not playing in this edition of IPL 2022 but he is not far from the stadium, good news for Suresh Raina fans as he makes a debut as Commentator in CSK vs KKR match.
Suresh Raina Makes Debut as a Commentator in IPL 2022:
Fans call him by the names like Mr. IPL, Chinna Thala, Sonu and Chota Sachin. Yes we are talking about Suresh Raina, there is a good news for his fans. Suresh Raina's fans were heartbroken since the IPL 2022 auction as none of the teams showed interest in buying him. But after a month or two of downtime here is a great news for CSK and Suresh Raina fans. Suresh Raina makes his debut as a commentator in IPL 2022. Coincidentally Mr. IPL is delivering his commentary for the franchise which he belong to, for the player whom he admire the most, Mahendra Singh Dhoni.
How are fans reacting to Suresh Raina as a Commentator?
We have seen a lot by Suresh Raina's bat, bowl and his amazing fielding skills. Now is the time to witness another side of him that is his commentary. Fans are really excited to listen to him and are expecting a lot of "inside the CSK dressing room" stories from Chinna Thala. Most of the fans are happy that Dhoni and Raina have come back together by this means once again. But, there are some fans who are really disappointed too. They want to see Suresh Raina in CSK's jersey which is not happening. Some of the fans are disappointed by MS Dhoni also and are blaming him that Suresh Raina could have been a part of this IPL if Dhoni wanted.
Shraddha Kapoor Announces Breakup with Her Rumored Boyfriend Rohan Shrestha After dating for 4 Years
Well there are always two faces of a coin, depends which face are you looking at. But what matters is that Suresh Raina is anyhow a part of IPL 2022 from the commentary box.
Suresh Raina and MS Dhoni's Friendship
This topic has no starting and no end. The friendship of these two star players of Indian Cricket Team is unmatchable and unbelievable. Suresh Raina and MS Dhoni are often clubbed as Jai-Viru of Indian cricket. There are a lot of instances and incidents where both of them took stand and proved friendship for each other. (Maybe even beyond that as only few things are out in media) Here are some of the most viral images of Suresh Raina and MS Dhoni.
This is the picture of MS Dhoni at Suresh Raina's wedding. It was an auspicious day for Suresh Rain and the presence of his best friend made it more special.
Twitter users take it to next level
I typed best jodi on and off the field my keyboard automatically corrected ' raina – dhoni ".

— . (@KohliisGoat) July 9, 2021
Suresh Raina convinced Dhoni fans that he will convince Dhoni to play next IPL if CSK wins the trophy, which actually happened but Chinna Thala himself is missing from the journey.
" I'll convince @MSDhoni to Play next year IPL if #CSK wins Trophy this year "

– Suresh Raina 💛 pic.twitter.com/nCqxJWDjT8

— Dhoni Army TN™ (@DhoniArmyTN) July 9, 2021
Very few people know but not only Mahendra Singh Dhoni and Suresh Raina are friends but their daughters Ziva Dhoni and Gracia Raina are also good friends and chill out together.
Suresh Raina announced retirement from International cricket on the same day of MS Dhoni's announcement. It was a painful day for both of their fans.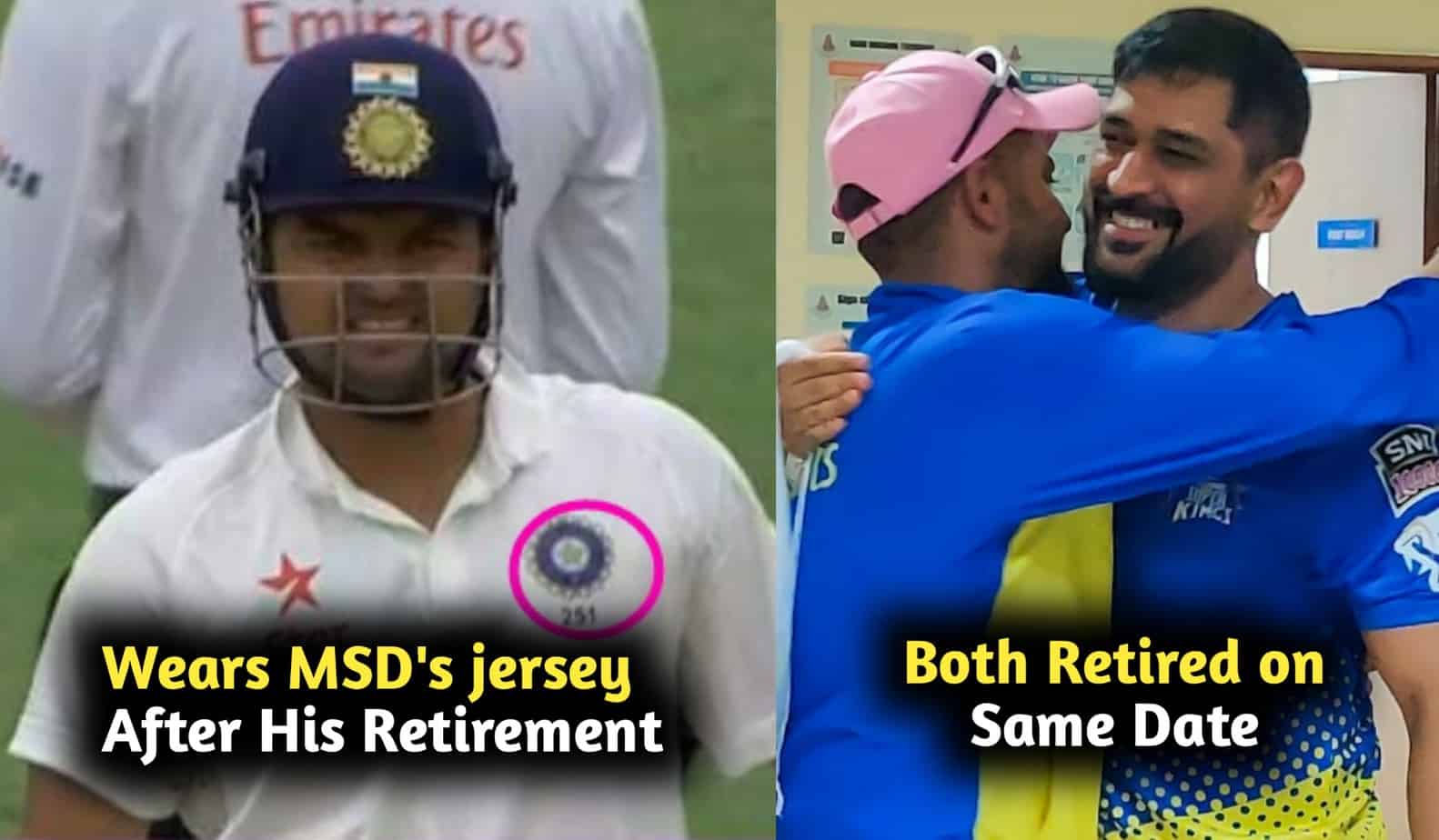 Suresh Raina's achievement and records in IPL:
Suresh Raina and IPL have given a lot to each other. So, here are some of the key achievements and records of Suresh Raina in IPL.
Suresh Raina is the first batsman to score 5000 runs in IPL
Suresh Raina has taken most number of catches in IPL. As of a past record in 205 matches Suresh Raina has a record of 109 catches in IPL.
Suresh Raina has scored most number of 50s for CSK in IPL. He has scored 33 half-centuries in his IPL career.
Suresh Raina has hit 425 fours for CSK which is again the most number of 4's scored for CSK by any player.
Suresh Raina has hit second most number of 6's for CSK, i.e. 180 sixes. MS Dhoni holds the top position for CSK.
So this is all about the good news for CSK fans, Dhoni and Raina Fans. If you are happy seeing him back in IPL do leave a comment on our twitter post and comment your opinions about his commentary.
Do follow us on Twitter and Instagram for more such updates from sports and entertainment industry.