"Himalaya Products are Halal Certified", News Surfaces again as a Twitter User raises concern on the Halal Certification
Are Himalaya Products Halal Certified? Are your Himalaya Neem Face Wash and Himalaya Complete Care Toothpaste Halal Certified? Know in this article.
Twitter User Questions Himalaya India about Halal Certification:
Atul Mishra, an Indian Twitter user tweeted an image on 30th March 2022 and asks Himalaya India team to clarify its credibility. The viral image in the tweet is a notice by Himalaya company that reads, "We the member of the Himalaya Drug Company are honestly committed to the Halalness of the ….(herbal/chemical/food color)…. products produced by us in order to fulfil the obligation for Muslims to consume Halal Products. Our products comply with Islamic Law / Shariah and free from any forbidden ingredients under Islamic Law. We have setup the internal Halal Management Team comprising of senior executives (including Muslim) from various disciplines to be responsible for all matters pertaining to Halal Certification."
Also Read: Check Out Why Urfi Javed is Angry at a Security Guard | Urfi Javed Latest Viral Sensational and Hot Pics
Atul Mishra asks Himalaya India brand to tell that this is a fake news/image. And that his whole family loves Himalaya products. This tweet received a huge engagement with around 6000 retweets, 500+ quote tweets and 14,000 likes. In reply to this tweet many users are seen justifying that the news is true, some of them also posted the video of Founder of Himalaya, Mohammed Manal in which he is seen delivering a speech. You can listen to that here:
He is owner of Himalaya company, a Muslim spreading hatred and asking to boycott Reliance, Jio & Ramdev products linking these to RSS.
Himalaya makes ayurvedic beauty products & medicine. pic.twitter.com/VGMjiksikP

— मोहन धर Mohan Dhar (@MLDhar4) March 29, 2022
Himalaya Products: Vegan or Halal?
Now the big question is that does the Himalaya product that you use in daily life like Himalaya toothpaste, Himalaya neem Face Wash, Himalaya Shampoo and many more similar products contain halal meat?
Last year a tweet of a Twitter user, Arun went viral in which he claims that the Himalaya products like neem, tulsi and lasuna contain 'bovine' and 'cow' meat in them. ou can see that tweet too:
#Himalaya the 'Ayurved' Company officially confirms it's Neem, Tulasi, Lasuna contains 'Bovine' aka 'Cow' meat in them.

It is safe to say the majority of the products will have bovine in them.

As the company is owned by a Muslim family, we can be assured it will be #Halal. pic.twitter.com/anXyXSqz3M

— Arun 🇮🇳 (@arunpudur) July 12, 2021
Arun has 'exposed' the brand by an email conversation that happened in 2015 and the screenshot is posted in the tweet.
Twitter users are angry and are boycotting Himalaya products, you can check out the thread here. Let's see for how long does this boycott movement goes on.
What is Halal Certification?
'Halal' is an Islamic word which means 'Permissible or Lawful'. Haram is the opposite of Halal and it means the use of such things are prohibited in Islamic culture. Now what is 'Halal Certification'. Halal certification is the certification provided by some Islamic certification companies like halal India Private Limited, Halal Certification Services India Private Limited, Jamiat Ulama-E-Maharashtra- A state unit of Jamiat Ulama-E-Hind and Jamiat Ulama-i-Hind Halal Trust. They verify the process of manufacturing and the ingredients used in food/cosmetic products before providing the certification.
Who gets a Halal Certification?
There is a specific set of rules under Halal Law in Islamic culture. If the brands are using meat, blood and its byproducts in any sort of manufacturing then it has to follow the Halal Law to get certified. how to know if a product is Halal certified? It is as easy as checking the green dot mark on food items to check if it is vegetarian. Halal certified products have a small mark as shown in the image below.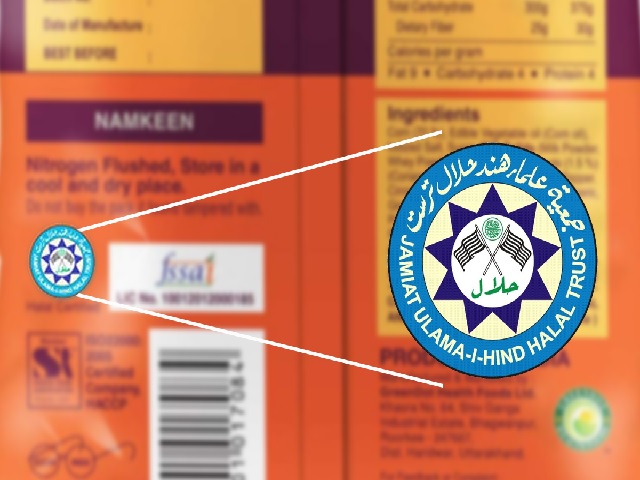 Why do brands get Halal Certification?
India is a country with Hindu as majority but a decent  proportion of the population is Muslim also. So to target that community brands get their products halal certified. Not only in India brands always aim to ship their products worldwide, so to ensure high sales in Muslim countries like Pakistan, Afghanistan and Saudi Arab brands get this certification on their products.
Which brands in India have Halal Certification?
The matter of Halal certification keeps on pumping and dumping on social media several times a year. There are many brands and companies who have Halal certification. Some of the big companies who have Halal certification are:
CavinKare,
Daawat,
Bikano,
Goldwinner oil,
Vadilal ice cream,
Amul
Haldiram
Britannia
Amrutanjan Health Care and
Gujarat Ambuja Exports
There are many more companies in the list who try to target international market from Arab and Gulf countries.
Follow The bright Wall on Twitter and Instagram to stay updated with latest Entertainment, Technology, Sports and political news and updates.