Hindutva Chapter One: Main Hindu Hoon Movie Review, Collection, Cast and Story
Hindutva as the name indicates is a movie based on religious politics, know everything from cast to Hindutva Movie review and story in this article.
Hindutva Chapter One: Main Hindu Hoon
In today's sinking era of Bollywood, movies like 'The Kashmir Files' are doing a good job. Perhaps it won't be wrong if we call it the 'only' successful movie of the year 2022. The next movie based on a similar zoner is Hindutva which is releasing in India on 7th of October 2022. The name of the movie is pretty self-explanatory. The movie is a concise approach to a much complicated problem of the nation.
दशहरा मना रहा है भारत। no १ मोस्ट ऐंटिसिपेटेड फ़िल्म हिंदी @IMDb

उत्सव मना रहा है भारत। गर्व से कहो मैं हिंदू हूँ, मैं भारतीय हूँ । जय श्री राम 🙏🚩#Hindutva #iambharat @BSonarika @KaranRazdan7 @SachinSachin888 pic.twitter.com/42yoic4Z5j

— Aashiesh Sharrma (@ashish30sharma) October 5, 2022
Hindutva Movie Cast:
The movie is directed by Karan Razdan, who is also one of the producers along with Subhash Chand, Jatinder Kumar, Kamlesh Gadhia and Sachin Choudhary. Talking about the star cast of the movie, Aashiesh Sharma as Bharat Shashtri can be seen in the lead role. Sonarika Bhadoria can be seen playing Sapna Gupta as the female lead of the movie. Apart from them Anup Jalota, Ankit Raj, Dipika Chikhlia, Govind Namdev, Mukesh Tyagi, Satish Sharma and Agast Annand can be seen in supporting roles in the film.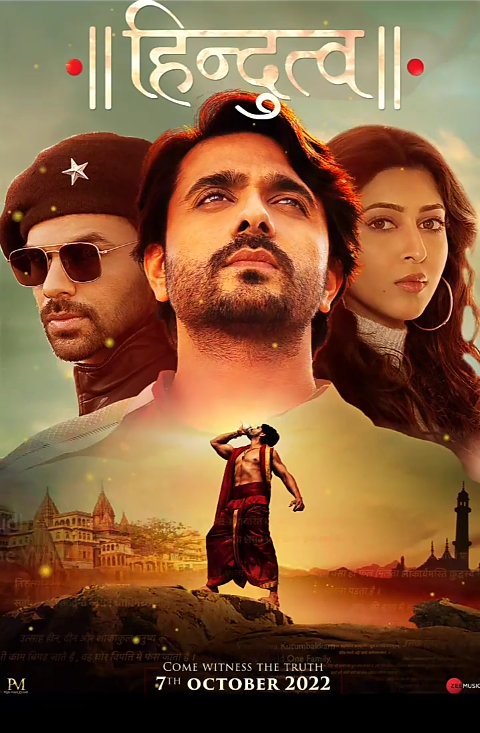 Hindutva Movie Story
:
On the basis of their religion, divisive forces drive two close friends against one another. Will they be able to transcend hate-based politics?
Hindutva Movie Review
Sameer (Ankit Raj) and Bharat (Aashiesh Sharma) were childhood friends. Despite the fact that Sameer is a Muslim, as suggested by his name, and Bharat is a Hindu, they coexisted peacefully as children thanks to a longstanding friendship between their families. When they get to the campus, however, Sameer is influenced by the deep animosity that certain unscrupulous leaders have been feeding into him and decides to run for the position of president of the student union. He is supported by a small group of like-minded students, including his girlfriend Sapna (Sonarika Bhadoria), who is as outspoken about her opinions and believes that, among other things, minorities in this country are treated unfairly. As opposed to Sameer and Sapna, Bharat is the saffron-loving, pious teenager who does not support their cause. A fervent right-wing leader named Krishnakant Bhalerao offers him the chance to run for president after one of his videos criticizing them for being toxic and divisive goes viral (Govind Namdeo). Initially hesitant, Bharat enters the race after being persuaded by his father (Anup Jalota) and receiving some guidance from his Guru Maa (Deepika Chikhalia).When he learns that Sameer, his former best buddy, has thoroughly radicalised himself and won't budge despite repeated attempts to talk with him, he becomes more determined to run for office. This sets the stage for a huge argument between the two buddies, who stand for the opposing philosophies and politicised religions dividing the nation's youth.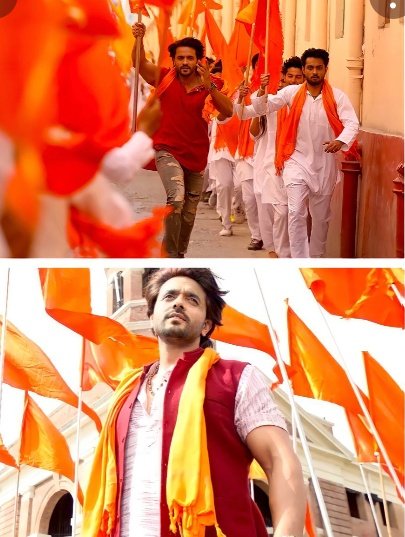 Despite the fact that writer-director Karan Razdan attempts to present a fair narrative, like many Bollywood movies, he ends up stereotyping members of a particular tribe and portraying them as the clear bad guys. There are a few excellent men and women, of sure, but their numbers are far too outnumbered.
Aashiesh Sharma and Ankit Raj, the two starring guys, both gave respectable performances in their parts. Sonarika Bhadoria has a stylish appearance and excels in the small role she is given. Deepika Chikhalia, a seasoned television performer, Anup Jalota, and Govind Namdeo portray archetypal characters that represent a particular sort of people from a neighbourhood.
The production qualities are above average, and the movie was shot in some of North India's most stunning alpine regions. However, the general narrative of the movie is far too mundane and oversimplified for a problem that is multi-layered and nuanced. Karan Razdan doesn't dive further into his subject or provide us with any substantial insight. The conflict is set against significant issues like CAA and Article 370, yet there is no deep meaning behind it. The overarching plot of the movie is infused with hyper nationalism and reads as a reflexive response to some of the most important recent events.
It's obvious what message writer-director Karan Razdan intends to convey in this movie, barring the fact that it's propaganda. While the ending makes up for some of the glaring shortcomings and the leading guys reflect the country's youth, we can't say that the movie is fully entertaining. Additionally, even before you go too deeply, the title clearly tips the scales.
We think the actors and the director have worked really hard and it takes a lot of courage to bring such movies. It is really great idea to put forth and with a good audience and collection this kind of films will also increase and do better with time.
So we hope this movie review will help you decide whether to go to the theater to watch it for the reading review part is enough for you to get an overview of the movie. Do not forget to comment your opinions on our social channels.
Also Read:  Bigg Boss 16: Did you know that before becoming a politician, Archana Gautam was a well-known bikini model? Have a look on her Hot Bikini Pics
We hope this was an information rich article and for more such entertainment news and updates follow The Bright Wall on Twitter and Instagram. Share this article and take a step forward towards making The Bright Wall one of the best news websites for entertainment, business, sports, technology and social media updates.