Karan Johar Quits Twitter, Here's the reason Why Karan Johar Decided to Deactivate his Twitter Account
Karan Johar quits Twitter and says in his last tweet, "Making space for more positive energies". Here's the reason why Karan Johar quits Twitter.
Karan Johar Quits Twitter: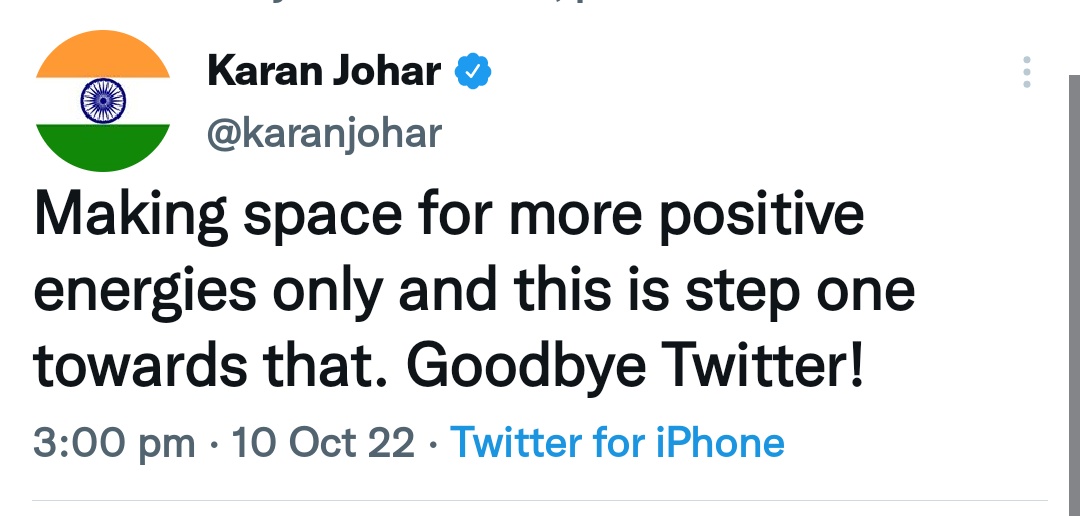 Karan Johar said in his final tweet, which is no longer available, that he was leaving Twitter to allow room for "positive energy." KJo, who frequently experiences trolls, issued a farewell tweet on Monday that stated, "Making space for more positive energies only and this is step one towards that. Goodbye Twitter!!" Later, he turned off his account. Fans praised him for the decision and swamped the comment area shortly after he posted the tweet. One user posted, "Peace and harmony are far more significant than any SM platform. One person wrote, "Cheers KJo, have a good one," and another, "Goodbye Karan. See you in Jhalak Dikhla Jaa."
A Myanmar-based admirer wrote: "To you, Karan, with much love and support. I'm eager for more of your filmmaking. From Myanmar, your admirer."
On Instagram, Karan Johar continues to be active.
Take a look at Karan Johar's Twitter profile here:
Why Karan Johar Quit Twitter?
In the final episode of Koffee With Karan 7, Karan Johar, who is frequently referred to be the "flag bearer of nepotism" (Karan admitted as much in one of the episodes of KWK7), discussed his mental health and how going to treatment had helped him. I developed a thick skin over the years, he claimed. Sincerely, when I read completely disgusting, horrible things, it doesn't bother me in the manner that people think it should. They even resort to abusing my children. When it happens, I want to scream, "F*** it, just leave them out of it." You may say whatever you want about me, my sexuality, or any of the very absurd conspiracy theories that they have. It's not like I haven't gone to therapy or had problems in the past, so it doesn't really concern me.
A troll who questioned the logic of a sequence from Brahmastra last month received a response from Karan Johar. "Explain to me how that ashram is hidden yet its address is available on Google Maps. According to this reasoning, the film has made 300 crore? Is this an example of Indian creativity? the deleted tweet was read. The film's producer, KJo, responded, "The Guru is living like any other person in the real world… no one knows he is the leader of the BRAHMANSH! That His is the house of the Astras… so his address with his name in the real world is of course on google maps."
While on the other hand some of the Sushant Singh Rajput fans who think Karan Johar and nepotism being responsible for his untimely demise are welcoming this news. Have a look here:
Good riddance! #KaranJohar
Your existence and influence are toxic
Karma will not spare you for what you did to @itsSSR pic.twitter.com/o3iogw3et3

— Tandav (@tandav29257392) October 10, 2022
Karan Johar Professional Activity:
In the meantime, Karan Johar is making a comeback as a director with his next movie Rocky Aur Rani Ki Prem Kahani, which stars Alia Bhatt and Ranveer Singh.
Also Read: Hindutva Chapter One: Main Hindu Hoon Movie Review, Collection, Cast and Story
We hope this was an information rich article and for more such entertainment news and updates follow The Bright Wall on Twitter and Instagram. Share this article and take a step forward towards making The Bright Wall one of the best news websites for entertainment, business, sports, technology and social media updates.