The Real Truth Behind #DearNothing Trend going on Twitter and YouTube; Nothing Phone vs South Indian YouTubers
Nothing Phone (1) launches in India on 12th July 2022 but with a little controversy from South India. 
Nothing Phone (1) Specifications:
The all-new Nothing Phone makes a successful launch in India with its first ever mobile model Nothing Phone (1). The hype of the phone has been seen since last 1 month on YouTube and Flipkart, where the sale is live. The phone is equipped with some amazing features and as it is reviewed by the most famous tech youtuber on earth, Marques Brownlee the phone has some potential to draw market attention. The phone will be available for sale on Flipkart from 21st July at 7 PM. Let's talk about the features, the Nothing Phone (1) comes with a dual rear camera setup of 50 MP + 50MP with a powerful Samsung JN1 sensor. Its other important features include the custom built Snapdragon 778G+ chipset and the 120 Hz OLED Display. The phone (1) will be available in 3 variants viz. 
8GB/128GB for ₹31999, 

8GB/256GB for ₹34999, and

12GB/256GB for ₹37999.
Also Read: Darlings Teaser Out: Netizens Go Crazy for The Upcoming Netflix Film Starring Alia Bhatt, Shefali Shah, Vijay Verma and Roshan Mathew
Nothing vs South Indian YouTubers:
Within the first hour of Nothing Phone (1) launch in India, Twitter witnessed a trend #DearNothing and it is not a positive sentiment trend for the brand. After some research we found out that the trend started after a south Indian Tech YouTuber named Prasad posted a video on YouTube. Prasad is a tech YouTuber from South India with a tech channel named 'Prasadtechintelugu'. Targeting the London based electronics brand Nothing, Prasad shared that they are not sending review units specifically to South Indian YouTubers. Watch the video here: 
Reality of 'Dear Nothing' trend:
The trend started within a few hours of launch of the Nothing Phone (1) in India and was trending at no. 1 position. But, was it legitimate or was it manipulative? The tech YouTuber Prasad who used a printed message from the brand reading "This device is not for South Indian people" is actually just a manipulative move by the YouTuber. All the twitter users are using that screenshot as if the brand has literally sent this message to the youtuber. On observing the comments section closely you can find that after some time of posting the video the YouTuber pinned a comment on the video that the message shown in the video is just for representation purpose.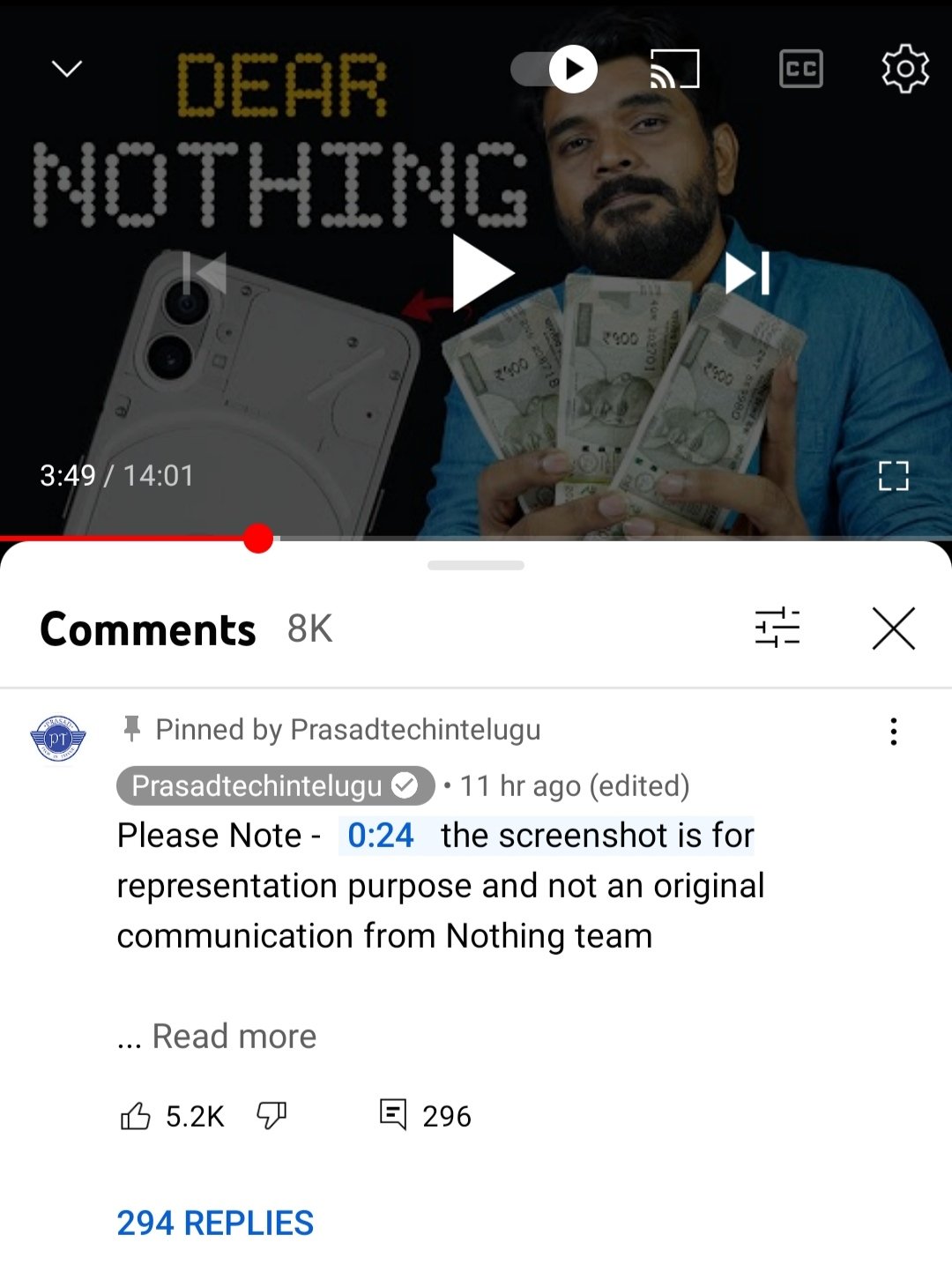 But it is too late for realization. One irresponsible move by a YouTuber can damage the image of a brand so badly. People don't really go to find the logic, they are used to acting blindly as soon as they find something controversial. Prasad being a big YouTuber knew public sentiments and played with them very smartly. 
Why didn't Nothing Send Review Units to South Indian YouTubers? 
We all know that Geeky Ranjeet is from Hyderabad whis is undoubtedly a part of South India and he received the review unit too. Actually, Nothing Brand doesn't have any personal grudges from South India. They choose to send review units to YouTubers satisfying their criteria which none of the regional language channels satisfy. That's the only reason for these South Indian tech YouTubers not getting the Nothing Phone (1) review unit. 
The question is Prasad has satisfied his ego, but have Twitter users done justice to the brand? 
We hope this was an information rich article and for more such entertainment news and updates follow The Bright Wall on Twitter and Instagram. Share this article and take a step forward towards making The Bright Wall one of the best news websites for entertainment, business, sports, technology and social media updates.