TMKOC: Shailesh Lodha Shares a Post on Social Media, Fans are Speculating that Asit Modi has Backstabbed Shailesh Lodha
Shailesh Lodha aka Tarak Mehta has bid good bye o the show recently. Here's his satirical post after the farewell from the show, fans think it is about Asit Modi.
Shailesh Lodha vs Asit Modi?
TV's popular serial 'Tarak Mehta Ka Ooltah Chashmah' is in the news these days not because of its episodes but because of the star cast. Recently we saw that many actors have bit bye-bye to the popular TV show Tarak Mehta Ka Ooltah Chashma, including the serial's important character Tarak Mehta i.e. Shailesh Lodha. But Shailesh remains in constant media headlines even after getting out of the show. He has been sharing such posts on social media for the past few days, after which it is believed that there is a heated argument between him and the show's producer Asit Modi. At the same time, now once again Shailesh Lodha has shared a post.
Why Are Fans Against Asit Modi?
In the post shared by Shailesh Lodha on his official Instagram account, Shakuni Mama of 'Mahabharata' is seen. In the post that surfaced, Shakuni can be seen tossing chess dice in the air with his clever smile. The post reads a quote,"सरल व्यक्ति के साथ किया गया छल आपकी बर्बादी के सभी द्वार खोल देता है। चाहे आप कितने भी बड़े शतरंज के खिलाड़ी क्यों ना हो।" (The deceit done to the simple person opens all the doors of your ruin. No matter how great a chess player you are.)
View this post on Instagram

Apart from this post of Shailesh Lodha, his caption has also caught the attention of people. The actor wrote in the caption, 'If not today then tomorrow… God sees everyone.' Shailesh Lodha did not write anyone's name in this caption. But fans believe that the actor has made this post while taking a jibe at Asit Modi. One fan wrote, 'Taarak Mehta is speaking indirectly to Asit Modi.' Another user wrote, 'Asit Modi ko bol rahe na nahi'. The third wrote, 'Yeh Asit Modi ke liye hai kya… How naive they all look on TV.' Fans are constantly making such comments.
Shailesh Lodha Unhappy on being replaced by Sachin Shroff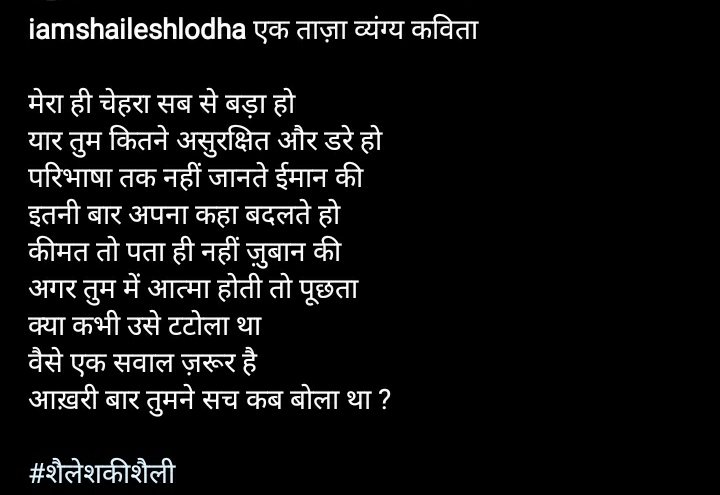 Sachin Shroff has entered the show as Tarak Mehta in place of Shailesh Lodha. However, many fans of the show are not happy with the arrival of Sachin Shroff. Not only this, Shailesh Lodha himself had also shared a cryptic post after Sachin's entry, in which he wrote a poem, which was written with a satirical tone. This poem of Shailesh Lodha became very viral on social media. A fan said that he shouldn't have left Tarak Mehta Ka Ooltah Chashma, to whish Shailesh replied: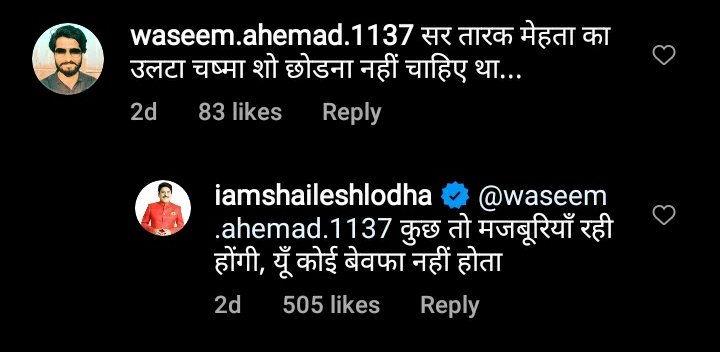 Also Read: Bigg Boss OTT Fame and Famous Bhojpuri Actress Akshara Singh MMS Goes Viral on Internet, here's the whole TRUTH
So, we will constantly keep you posted with latest updates from the show Tarak Mehta Ka Ooltah Chashma as well as Bigg Boss Season 16 is near, so we have many timely updates coming for the same. We hope this was an information rich article and for more such entertainment news and updates follow The Bright Wall on Twitter and Instagram. Share this article and take a step forward towards making The Bright Wall one of the best news websites for entertainment, business, sports, technology and social media updates.